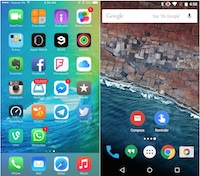 Apple iOS 9 vs Android 6.0 Marshmallow
Both Apple and Google have unleashed their latest mobile operating systems on the world.  Apple has iOS 9, Google has Android 6.0 Marshmallow. Two completely different takes on a touchscreen user experience. They both have their own strengths and weaknesses and provide powerful new features, but which one is best? Let's rundown what's new in both operating systems.   
Apple's iOS 9 introduces longer battery life with a new low-power mode that disables, non-essential background tasks, visual effects and automatic updates to squeeze more runtime out of your iPhone.
Android Marshmallow has a feature called doze, which basically does the same thing and is advertised as being able to double your Android smartphone's battery life in some instances.
iOS 9 introduces Split View on the iPad. At last you can now read a review of your next holiday destination in Safari, while checking out the location in Google Maps at the same time. Or you can work on writing your college assignment on one side of the screen, while reading citations from the iBooks app on the other side.
Marshmallow's Google Now on Tap provides a much more sophisticated Google Now experience. It can now analyse what you're viewing on screen and make recommendations and provide additional information based entirely on the context of what you're doing.
iOS 9 sees significant updates to Siri. For example, Siri is now aware of context and location. You can tell her to remind you of something the next time you get into your car for example. You can also ask her time-specific questions such as, "show me photos from New York last April". Images matching the time and place will then be displayed. Siri is also capable of making suggestions based on your location and integrates with maps.
iOS 9 also introduces a new News app that is customised to stories and sources you like. Wallet replaces Passbook, which is a great way to make payments on the go. Maps has been improved upon with new transit information.
Multitasking has been vastly improved upon, allowing fast apps switching through just a simple swipe and apps can be stopped just as easily.
Android Marshmallow adds new animations, app drawer navigation and app level permissions, which means the user can now enable and disable them for each individual app, so you can choose to allow your location data to be accessed by one social media app but remain disabled for another.
iOS 9 gives you unknown caller suggestions, which means if you receive a call from a number you don't recognise, it will scan your emails looking for email signatures with that number and suggest who it thinks the person may be.
Marshmallow also includes native fingerprint integration and USB Type-C support also. But it's clear that although both operating systems are very evenly matched, Apple's new iOS 9 operating system offers more significant new features overall. This is perhaps also due to the fact that Apple had a little more catching up to do with Android in this 9th release of iOS.
Either way, it's hard to pick a clear winner and I don't think it's necessary to. Whether you're an Android or iOS user, there's lots of cool new functionality to play around with in these new operating systems.
So let me know in the comments below guys, which OS do you think is best, iOS 9 or Android 6.0 Marshmallow?
For more tech content, Subscribe to Computing Forever on YouTube.