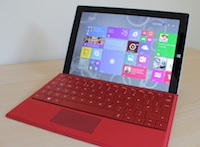 The Microsoft Surface tablet line has truly become a refined and complete tablet / laptop device, delivering the best of both worlds to users. Where Apple's iPad and indeed many Android tablets fall short is their simplified and appliance-like nature. Both iOS and Android as operating systems provide wonderful content consumption experiences, but fail to provide the kind of comprehensive UI that is conducive to true productivity.
Microsoft's strategy of having a one-size-fits-all OS didn't initially thrill me when I reviewed the Surface Pro 2 a couple of years ago, but given its improvements over the years, it's more than proved its worth. The Surface 3, like all Windows 8-powered computers, provides a simple touch layer Modern UI environment for content consumption and basic usage, on top of traditional X86 Windows desktop.
It's a simple Tablet computer and a full PC in one device. iOS and Android fail to measure up in this respect. Moreover, Microsoft have dropped the price of the Surface 3 to $499 or €609 from Harvey Norman for the 64GB entry-level model. This now means that you're getting far more value for money than buying an iPad Air 2 for example. In addition, the Surface offers additional MicroSD expansion, a Mini display port, USB 3.0 and a free upgrade to Windows 10 when it's released.
Windows 10 will see the return of the much missed Start Menu, which was removed in Windows 8. Along with a host of new and exciting features and the ability to easily port Android and iOS apps to the Windows store, Windows 10 is going to seriously improve the Surface 3 even further. Exciting times lie ahead for sure. Be sure to check out my full review of the Microsoft Surface 3 tablet in the YouTube video box above. Let me know your thoughts on the Surface 3 in the comments below and subscribe to Computing Forever on YouTube.