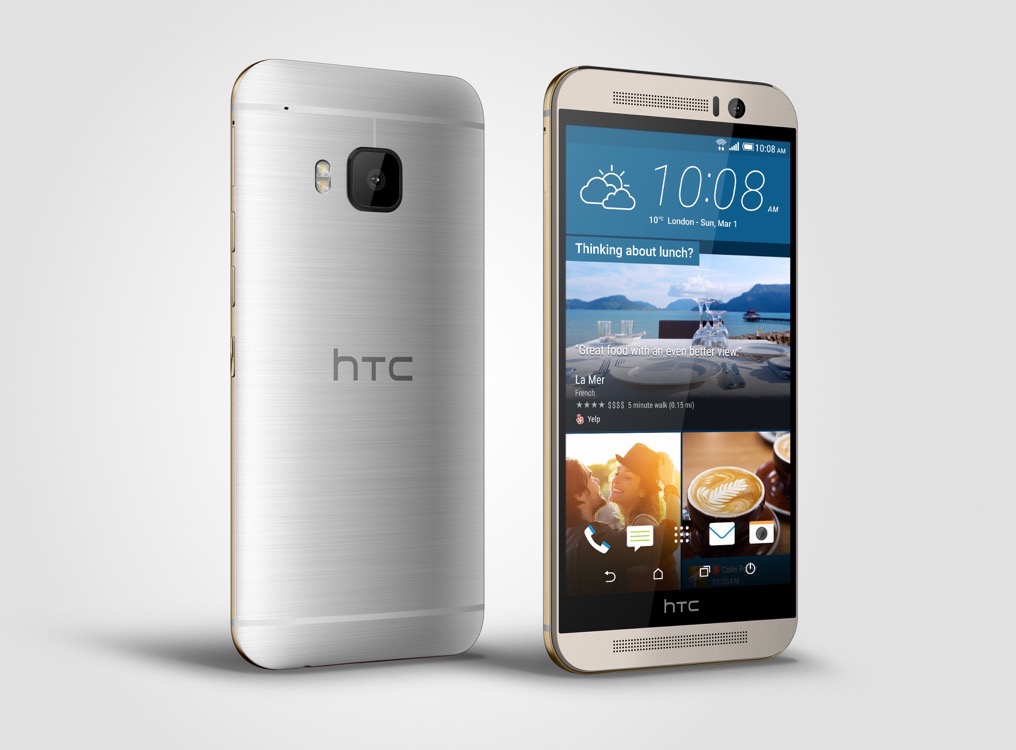 The HTC One M9, right is one of the major smartphone handsets of 2015 right now. Although it hasn't landed with quite the same bang as its predecessor, last year's M8, it remains an excellent choice for those looking for a quality smartphone.
It's a pricey piece of kit however and I'm personally not a proponent of people spending crazy sums of cash on these kinds of devices. There's plenty of cheaper and perfectly capable Android handsets on the market that are powerful enough while simultaneously being more cost effective. However, I'm still reviewing this purely as a discussion of high-end product. If you've got the cash to throw around, then by all means.
So the specs then: The HTC One M9 offers a 5-inch 1080p display with 441 ppi pixel density, Corning Gorilla Glass 4, Android 5.0 LolliPop, Qualcomm MSM8994 Snapdragon CPU, which is Quad-core at 1.5GHz and 2 GHz, 3GB of RAM, MicroSD expansion up to 128GB, 32GB of internal storage, 20.7MP rear camera and a 4MP 1080p front camera.
The design has been subtly modified in all right when places when compared to the M8. No longer is a rubber case included in the box because it's simply not needed. The materials used and the presence of sharper edges on the sides mean that the M9 won't slip out of your hands quite so easily.
It really feels like a beautifully engineered premium piece of tech, even more so than the iPhone 6 and 6 Plus in my opinion, but I think it lacks a certain 'WOW' factor found in the Samsung Galaxy S6 and S6 Edge. Also the metallic back shell looks like it's prone to picking up a little bit of dirty and the occasional scratch, but it's no big deal.
HTC has once again imbued Android with their own Sense UI, this time it's Sense 7.0, which I found far more capable and less intrusive than Sense 6. It also feels more consistent across the device and far more customisable. Like smart folders for selecting the most used apps depending on whether you're at home, in work or elsewhere. Blinkfeed now offers some additional services. Quick settings now includes a flash light, which works well. The Camera was perhaps the biggest disappointment because images, while good, had a little too much graininess in low lighting or weren't sharp enough. Thankfully a software update has resolved much of these issues and I really believe the images are wonderful from this handset now.
Performance of the M9 is incredible. Genuinely not a slowdown to be found thanks to that super fast quad-core snapdragon chip. Navigation is smooth and responsive, web browsing is seamless and consequently there's plenty of power for gaming at a high level.
However, where the HTC One M9 falls down is the fact that it has basically been neutered.  There's no Finger Print scanner and the cool Camera Depth Sensor from the M8 has been removed. I loved playing around with that feature but it's gone now. The neutering of the device becomes more unforgivable when HTC have just announced HTC One M9+, which includes everything the M9 is missing. Essentially the HTC took their flagship M8 device, updated it and separated it into two completely different product lines. That's the reason I simply cannot rant and rave bout the HTC One M9. It lacks the awesome impact of other high-end smartphones out there and fails to impress like the M8 did. It's certainly still a good phone but for the price, there's better devices you could go for.
For more tech content, subscribe to Computing Forever on YouTube.