HTC Re Review
Cameras on Smartphones are pretty awesome these days, so it seems unusual that a company would produce an accessory like this one. It's a dedicated external camera / imaging device designed for use with your Android or iOS handset. The HTC Re is certainly a unique looking product. From the very alternative packaging that took me a little while to figure out, to the futuristic periscope-style design of the RE itself, it's a genuinely cool looking and eye catching piece of equipment.
It's a camera without a viewfinder, but it does have an ultra wide angle 146 degree f/2.8 lens with a 16mp CMOS Sensor. It feels nice in the hand, good to hold, the plastic feels a little cheap but solid in construction. It's worth pointing out that this is dust and water resistant too.
The specs also include 8GB of MicroSD storage included, expandable to 128GB, grip and G-Sensors, it's got an HD microphone and a solid battery that will provide 1 hour 40 minutes of continuous video recording.
So the first thing we need to do to use the HTC Re is to install the Re app on our iOS or Android smartphone. After you follow the onscreen instructions and pair the device with your phone, the app allows you to wirelessly connect to the camera and now you've got a viewfinder for framing your photos.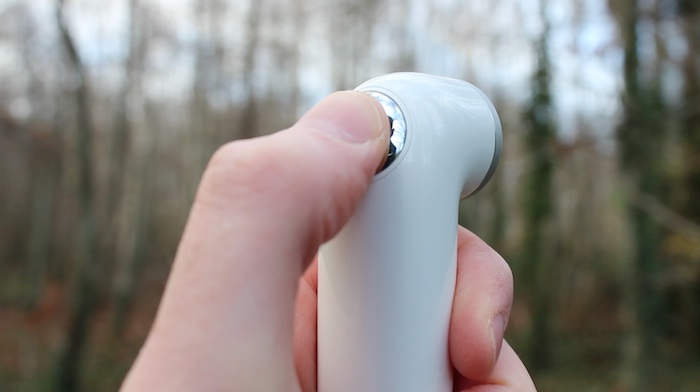 The HTC Re app is straightforward enough, you get a live view of all the photos and videos stored on the Re camera. Wireless video playback streaming is slow at times and not great. It's best to view these videos on your computer. I found the connectivity between the phone and the camera a little too unstable. There were intermittent syncing issues. You can take photos and video right from within the app and there's a nice timelapse function also.
Image quality is pretty decent from the HTC Re, the wide angle lens is really a genuinely wonderful feature here. The scope of the image is really significant and that's a very important thing because when you're using this camera without your phone, you really don't know if you're going to get the perfect shot you're looking for. With a wide lens, you're more likely to be successful. But there's no guarantee you're getting the shot you really want because you can't see what your shooting. So you can't rely on this camera to be as good as your smartphone camera and that's a massive problem.
Without having it paired to your smartphone and using your phone screen as a viewfinder, you're basically shooting in the dark. As for the picture clarity, resolution and pixel density, it really comes down to that age old digital camera stumbling block of lighting. In low lighting images are acceptable, although noise is not uncommon. What's frustrating is the amount of images that happened to be out of focus. That's what I can't understand here, there's no zoom, no flash and no focus ring and with no viewfinder, there's really no reason for me to recommend you buy this thing.
The HTC Re, is a nice looking gimmicky device but all the fancy marketing images in the world can't get over the fact that it's simply not as practical or useful as a high-end smartphone camera. While you're unlikely to find a lens this good on a smartphone right now, you can buy lens accessories for lots of smartphones that allow you to achieve the same field of view you get from the HTC Re. Furthermore, there's a growing number of smartphones that are water resistant so that feature on the HTC Re doesn't win me over either.
The occasional wireless connectivity dropouts are another negative here too. In it's favour, it does produce photos with a decent high dynamic range but there's nothing wowing me about the photos either. Video quality is ok, audio is acceptable, if a little low volume-wise but the video lacks proper image stabilisation so it's not nearly as good for vlogging as most mid to high-end smartphone cameras.
In Conclusion, the HTC Re is a niche accessory for your smartphone that won't add significant value to your picture taking experience. I'll be the first to admit that I just don't see the point of this thing. Stick with your smartphone camera and save the money.
For more tech video content, subscribe to Computing Forever's YouTube channel.