The Most Cost Effective Apple Mac Computer To Purchase
Apple's Mac Lineup is comprised of five different computers. From cheapest to most expensive, the Mac Mini, the MacBook Air, the MacBook Pro, the iMac and the Mac Pro.
The Mac Mini and the Mac Pro occupy opposite ends of this Apple Mac spectrum but share a few key similarities. Firstly, they are both desktop computers and secondly, neither of them come with a display, keyboard and mouse. That's where the similarities end however. The Mac Mini provides only low to mid-range specifications, with dual-core processors ranging from 1.4GHz Core i5 up to 3.0GHz Core i7. The starting price for the Mac Mini is €519 or $499. Keep in mind it begins with only 4GB of RAM.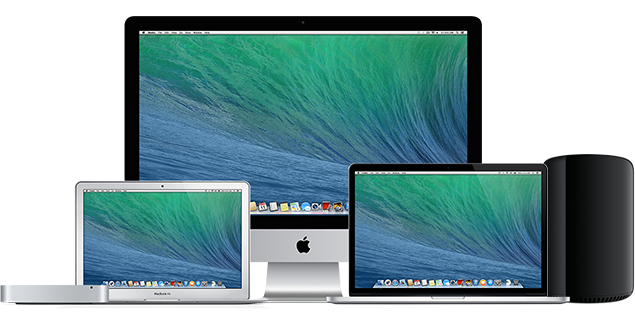 The Mac Pro is a super powerful workstation with specs beyond all others Macs and the capacity for significant hardware upgrades. I'll talk about that a little later.
The MacBook Air and MacBook Pro are the two laptop Macs. The Air begins with an 11-inch display and similar specs to the Mini except it has a 128GB flash drive. It starts from €929. It also provides 9 hours of battery life. The 13-inch Air starts from €1029 and provides 12 hours of battery life. Core i7 processors and up to 8GB of RAM are also available.
The MacBook Pro is the most unusual Apple Mac because it still provides a legacy non retina model with a DVD super drive, which will soon be phased out. Beginning at €1,149 with a 2.5GHz dual-core Core i5 processor, the 13-inch MacBook Pro is a step up in terms of specs from the Air. The 13-inch Retina model begins at €1,349 with 8GB of RAM up to 16GB, it will take up to a  3.0GHz Core i7 dual core CPU. Only the 15-inch MacBook Pros with retina displays provide quad-core processors, which is a tad limiting in my view. A 1TB Flash drive and high end Nvidia Geforce GT 750M GPU are also available.
The iMac sits neatly in the middle of the Apple Mac lineup. It comes in two sizes, a 21.5-inch and 27-inch display edition, now with a 5K retina screen. Crucially like the Mac laptops, the iMac come with a display, keyboard and trackpad or a mouse. So you're getting a complete computing package here. The entry level iMac is quite affordable at €1,129, that includes 8GB of RAM along with the same specs as the entry level Mac Mini. The 27-inch model begins with a Quad-core Core i5 processor and a decent Nvidia GPU for €1,899. Then there's the new 27-inch Retina 5K model with higher end specs and a gorgeous state of the art display from €2,699. Roughly $2,800.
Then we move on to the Mac Pro, it comes in two different models, a quad-core and dual GPU configuration with Xeon processors, 12GB of RAM and flash storage, and a second 6 Core model up to 12 cores, it can take 64GB of RAM and dual AMD FirePro D700 GPUs.
The Mac Pro can be upgraded after purchase unlike many of the Apple Mac computers nowadays.
So which one makes most sense? Well the Mac Pro will rule itself out for almost everyone except creative professionals with buckets of cash to throw around. It starts at €3,099 and €4,099 respectively and can become insanely pricey when specced up further. The fact that it lacks a display, keyboard and mouse means you need to have one already or purchase one separately. The Mac Pro is a niche machine and simply isn't targeted at the average consumer.
The Mac Mini has become a bit of a joke, more of a media centre machine and it rules itself out by it's lack of quad-core processors and removal of upgrade potential. As a desktop machine, the best computer to go for in my view is the entry level €1,899 or less than $2000. It's the most cost effective, you're getting a nice big display with a mouse and keyboard, 8GB of RAM, a decent quad-core Core i5 processor and an Nvidia discreet GPU. It's not retina but that's hardly the be all and end all. The MacBook Air begins with an 11-inch screen that is simply too small to me, they also don't have much power in them for my liking. The best mobile Apple Mac to buy is the mid level MacBook Pro from €1,549 with a core i5 chip, it's one weakness is its only a dual-core processor but the rest of the specs are decent enough.
I've written this article to target only those people who absolutely need to stay within the Apple Mac ecosystem for one reason or another, if you can get away with buying a cheaper PC, which will often have better specs, you should do that instead. Given Apple's restriction on upgrades and insistence on overusing dual-core processors of late, it's become a lot less attractive to buy a Mac.
But solid build quality, excellent customer support and the allure of OS X remain powerful motivators to many who still wish to buy an Apple Mac.
Be sure to subscribe to Computing Forever's YouTube channel for more tech videos.