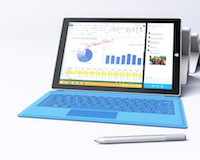 Microsoft Surface Pro 3 Review
The Microsoft Surface Pro 3 has taken the surface tablet lineup to the next level. In every way this is a far superior machine to the Surface 2 and Surface Pro 2 series.
In this review I will discuss what's good and bad about this computer but first things first, the specifications. The Surface Pro 3 features a larger 12-inch display, which is a refreshing change over the now typical 10-inch standard size of most large tablets. It gives you more room for your applications and with the addition of the type cover, makes this an appropriate laptop replacement.
This is the base model, specs can be ramped up considerably, but we'll just talk about this €819 model. It's got a Core i3 processor, 9 hour battery life, 64GB of storage, up to 512GB and begins with 4GB of RAM. It comes with a stylus pen, which I personally loath, a full sized USB 3.0 port, MicroSD card reader, headphone jack and a mini display port. Also given the size of the screen, you'll notice that the Windows button is on the side of the device.
The screen resolution is a hefty 2160 x 1440, and the display has some really rich saturated colours and a retina image quality that is easy on the eye and gorgeous to look at. More over it boasts excellent viewing angles too.
The multitouch functionality is fast enough, but because this is windows, occasionally you'll have to tap on a piece of text, which isn't always as easy as tapping on a modern UI tile. Now for two other strong hardware elements with the Surface Pro 3.
Firstly the newly updated kickstand feature allows you to position the hinge at any angle you want, this is a very welcome change. In addition, the typeover, which comes in multiple colours, is far superior to the pervious edition, equipped with backlighting to see the keys in low lighting, the typeover feels responsive and high quality for typing. It magnetically snaps on and instantly transitions the Surface Pro 3 from tablet to laptop, although you can still use the screen to tap on, the larger and clickable trackpad lets you access a traditional desktop cursor. It's a seamless transition and is perhaps the most important difference between the iPad and Surface series.
This is a full tablet PC with traditional x86-powered Windows underneath. The user can have the best of both worlds, a desktop PC and a mobile tablet computer. You can have a machine for quick and easy web browsing, YouTube video watching, gaming, Skype, email, maps, fitness etc and also have productivity and everything that comes with it.
Moreover, the trackpad can be magnetically latched closer to the display and with the kickstand positioned as required, the user can have an authentic laptop experience on their lap that simply wasn't practical or comfortable with the previous Surface machines.
The 1.5GHz Core i3 processor won't be sufficient for processor intensive applications but it will be more than adequate for most business tasks. We're getting to a stage now where Intel CPUs can offer a solid analog to mobile processors in terms of how energy efficient they are. The battery life is excellent here.
When switching to tablet mode, the device is easy to carry around, the very thin bezel is most welcome, it really does give you a huge screen area and the thinness and premium quality build is very noticeable.
Now for the negatives. Firstly is my minor gripe that the Surface pen is pretty useless. I found it imprecise and annoying to use. For some apps like signing your signature and drawing its great, but general navigation it's poor. Furthermore, Windows 8 remains a weakness, it's not an optimised user experience between the desktop and mobile environments, but there's hope here. Windows 10 is simply superior and running Windows 10 on this device should drastically improve this device. I'm not sure however that Windows 10 will eliminate another issue. Almost every app a user loads for the first time requires a login or an account setup or some other bloody registration signup. It's most annoying.
Finally, The Surface Pro 3 is marketed heavily as a tablet, laptop solution and yet it doesn't come with the type cover which is in my opinion, an essential accessory. The fact that it is sold separately is a major disappointment. Given the price of this device, I believe it should be included.
Many people will try to compare the Surface Pro 3 to the iPad Air 2 or a future iPad Pro, and while there functionality and general positioning in the market overtly overlap, they are two very difference products. I think it's unfair to try to compare the two of them. The Surface Pro 3 is priced at an upper end of the market scale and is in effect, two machines in one, which is why it's 60% more expensive than an entry level iPad and for that reason, it's a very attractive alternative.
Be sure to subscribe to Computing Forever on YouTube for more Tech content.