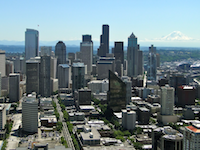 Silicon Valley in the Bay Area of San Francisco is the home of technical innovation in the United States. Indeed most international startups and entrepreneurs from around the world consider Silicon Valley to be the epicentre for global IT talent, creativity and invention.
There has always been something about Northern California that seems conducive to achieving extraordinary things. There's a positivity and supportive atmosphere about the place. More and more European startups have begun moving their businesses there in the hopes of locating top talent and much needed investment. Silicon Valley boasts the expertise and technical infrastructure to bring a small lean startup to considerable heights.
It probably helps enormously that the region boasts a desirable lifestyle thanks to some stunning natural beauty and a generally relaxed, bohemian subculture.
It's no wonder that The Valley (as it is often shortened to) is seen as a destination for budding entrepreneurs and founders who are eager to create the 'next big thing' in tech.
Well move over Silicon Valley because there's a new player in town. Up north in Washington State there's an emerging tech mecca that is planning to upstage its California-based cousin.
Seattle is fast becoming an entrepreneurial hotbed and a major location for startups to consider basing their operations. In a recent interview with Fox News' Small Business Center, Gred Gottesman, managing director at Madrona Venture Group said "Seattle is really well positioned because we have an incredible abundance of technical talent". He went on to say "We are the e-commerce capital of the United States", which he cites due to the presence of "great talent here from Amazon."
In 2013, business magazine Fast Company named Seattle the smartest city in North America. Seattle boasts the strongest percentage of college educated residents in any major US city.
Seattle is home to major corporations and tech industry giants such as Microsoft, Boeing, Expedia, Amazon, T-Mobile and Starbucks. Furthermore, Google, Facebook and Twitter are continuing to grow their operations their also.
The city has seen a significant rise in the number of Real Estate startups such as Zillow, which went public in 2011. Cloud startups are flocking to Seattle and there has been a notable rise in the number of tech incubators and venture capitalists operating in the area.
This year, Techstars.com observed a 67% increase in the number of startups moving from San Francisco to Seattle. The Puget Sound region is seen as an ever more attractive area for existing startups. For example, Tableau Software moved from San Francisco to Seattle a decade ago and has become a major economic influence in the area.
One of the major trends emerging from this northern migration is the number of companies working on products related to the "Internet of Things". These are interconnected devices and home appliances connected to the web.
Other important factors that make Seattle an attractive location for new and existing startups are its low tech unemployment rate, excellent public transportation system, idyllic outdoor lifestyle (hiking, fishing, boating) national parks, lakes and proximity to Mount Rainier, Portland and Vancouver.
For more tech news content, visit Computing Forever on YouTube.