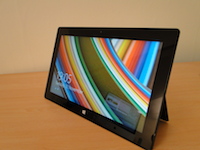 The tablet computer has truly enjoyed the limelight over the past four years, but in recent months it has begun to experience a drop in interest among consumers. Apple's iPad, while still a hot seller, has suffered a decline in unit shipments and now it seems that this fall off is representative of the tablet market in general. During a recent Re/code interview, Best Buy CEO Hubert Joly remarked on the crashing tablet sales of late.
He spoke about the enormous growth tablets have enjoyed as a relatively new product category and that it was difficult to compare its success to any other major consumer product.
There is no doubt that tablets sales are dropping off and this is likely due to a number of key factors. Firstly, there is a huge amount of competition now, and saturation is no doubt an issue. Secondly, innovation within the tablet space has been limited when compared to smartphones and finally, large smartphones and phablets are beginning to cannibalise tablet sales.
Joly also highlighted a revival of PC sales at Best Buy in the early part of 2014. This was helped in part to Microsoft's retirement of support for Windows XP. Furthermore, the decline in tablet sales probably doesn't tell the full story. The tablet category is a diverse one and convertible tablet / notebooks such as the Microsoft Surface series and others are beginning to gain momentum. Some people consider these machines to be both laptops and tablets and consequently consumers can have the best of both worlds from one device.