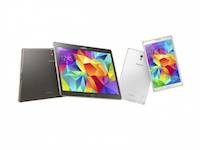 Samsung Galaxy Tab S
Samsung has unveiled another Galaxy Tab series of tablets called the Galaxy Tab S lineup. They come in two different sizes, 8.4-inches and 10.5-inches and both models offer Super AMOLED displays. Furthermore, these devices are super thin at just 6.6mm thick. That's thinner than an iPad Air. The tablets both offer resolutions of 2560 x 1600 and the battery life is pretty respectable too. The 10.5-inch version has a 7,900 mAh battery (30 Wh) and the 8.4-inch edition has a 4,900 (19 Wh) battery.
The specs include a Exynos Octa SoC with a 1.9 GHz quad-core Cortex A15 processor and a 1.3Ghz quad-core Cortex A7 CPU. Along with a Wi-Fi only edition, an LTE model will also be available and will include a Qualcomm Snapdragon 800 series chipset.
As you might expect, the latest version of Android 4.4 KitKat comes as standard along with Samsung's familiar TouchWiz UI, that's the one we first witnessed on the Samsung Galaxy S5 smartphone.
The Galaxy Tab S series of tablets are due to be released in the United States in July for $399 for the 8.45-inch model and $499 for the 10.5-inch slate (both prices are for the 16GB storage capacities).
Check out my latest Tech News update below and subscribe to Computing Forever on YouTube.