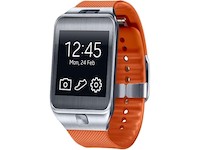 Samsung have unveiled their new range of smartwatches at the Mobile World Congress in Barcelona with the launch of the Galaxy Gear 2 and Gear 2 Neo.
What makes them very unique is that they dispense with Google's Android OS and instead make use of Tizen, which is based on Linux. The Gear 2 and Gear 2 Neo feature a 1.63-inch Super AMOLED display with a resolution of 320 x 320 pixels, a 1GHz dual-core CPU, 512MB of RAM, 4GB of internal flash storage, a 2.0-megapixel camera (Gear 2 only), a heart rate sensor, gyroscope and a pedometer.
In addition, a user can connect a set of Bluetooth headphones to the devices and also use them as remote controls to control a television thanks to the presence of an infrared sensor.
Another welcome change to this second generation of Gear smartwatches is improved battery life. Samsung now claim that rather than having to recharge the battery once per day, these new smartwatches will run for two to three days on a single charge due to a 300mAh battery,
Both the Samsung Galaxy Gear 2 and Gear 2 Neo will be available in April with pricing information to follow soon.