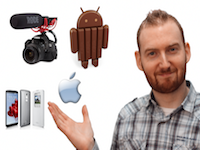 It's mid-February and I've had the opportunity to discuss such hot Tech topics as Microsoft potentially allowing Android Apps on Windows Phone and Windows 8, LG's new LG Pro 2, Apple's new sensor system that can detect heart attacks and their potential decline.
I also reviewed the Rode VideoMic Go from Rode Microphones, and in that video, I conducted a number of tests and compared it to the VideoMic Pro. I asked you whether you thought that Apple may be in decline given their recent lack of innovation with iOS 7, numerous court room battles with Samsung and diminishing consumer sentiment.
There are of course, plenty more videos to come this month from Computing Forever on YouTube's Lack78, so please stay tuned for more. If you haven't had the chance to watch these three most recent videos, check them out below and be sure to subscribe for future updates.