Well it had to happen eventually, Apple have run out of ideas. Following the release of Apple's iPhone 5s and new 5c smartphones yesterday, September 10th 2013, it is clear that the Cupertino-based Tech giant has reached its peak when it comes to innovation and can now largely be considered creatively bankrupt.
First up is Apple's iPhone 5s, the flagship handset gets the predictable updates such as a faster 64-bit A7 Chip, a faster graphics processor, a better camera, a few new sensors and a controversial fingerprint reader built into the home button. Additionally, Apple have renamed the existing color options (Black and White) to Space Grey and Silver (Puleeeze!!) and also added Gold into the mix, which looks rather underwhelming in my opinion.
The aforementioned fingerprint reader is certainly getting people fired up. It certainly makes for a more convenient and secure means of unlocking your phone and Apple have hinted at the potential of fingerprint authorised payments for online purchases and iTunes downloads, but there are those who see this as another potential intrusion of privacy. Given the recent NSA enquiries and the hyper paranoia regarding surveillance, the idea of willingly handing over ones fingerprints does raise questions as to whether a sufficiently skilled hacker could steal someones identity even more effectively than before. People are even asking the bizarre question as to whether a thief would go so far as to chop off your finger to steal your iPhone?
Besides these updates, the iPhone 5s just doesn't offer much more than the iPhone 5, particularly when both devices will run iOS 7. I think in many ways iOS 7 is perhaps the single biggest and more overdue upgrade announced at the keynote event, and also the most overlooked. Although the new operating system is mostly just an aesthetic facelift, it puts Apple right back in the mobile OS fight against Google's Android, which has easily outshone Apple's offering in terms of design, look and feel and user experience for many years.
Apple's inability to develop anything truly groundbreaking for the iPhone 5s should not simply be taken as a failing of Tim Cook and co. The smartphone market as a whole has reached saturation point and consumers are expecting another new and innovative product category to change the world again, just like the iPad did in 2010. As a result, everyone is turning their attention to wearable technology products like glasswear and smartwatches. The issue Apple has is that they are about to produce the iWatch (or whatever it'll be called) in response to similar offerings from Samsung and others, and playing catch up is really not something Steve Jobs ever encouraged. The philosophy of 'Think Different' appears to have deserted the organisation. I think this is most visible in the underwhelming iPhone 5c, which while certainly capable, is both cheap looking and uninspired. It's new colour options are identical to those of Nokia's existing Lumia series.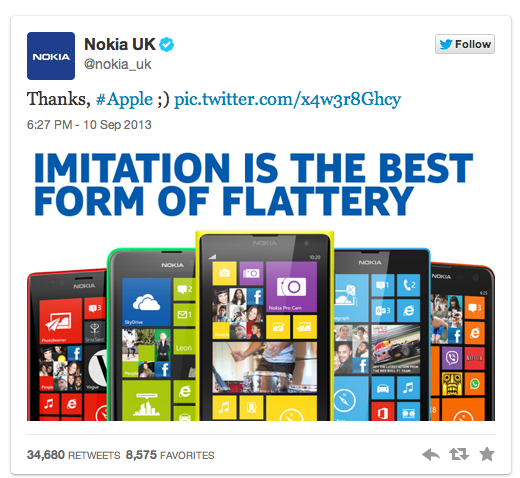 Furthermore, it's extremely disappointing to see that Apple hasn't taken such previous innovations as Siri further. Whatever happened to Siri? Introduced on the iPhone 4s, she really hasn't developed beyond being a basic voice recognition app that no one really uses anymore. It was a nice gimmick initially but with no improvements to AI or additional functionality, Siri has truly faded into obscurity due to general neglect. With the smartwatch phenomenon expected to kick into full swing soon, sophisticated voice input features will be of the utmost importance to users. Will Apple be ready?
The truth is, Apple's iPhone 5s and iPhone 5c handsets could have been so much more. The screen size remains the same at just 4-inches and the faster A7 chip inside the 5s will generate no discernible difference to day-to-day usage for most users. There's also been no improvement to the battery life, which it seriously needed. Storage options remain limited to 64GB at the most with no 128GB model available yet. It would be nice if Apple had have finally given users what they've wanted for so long – an actual microSD expansion port. The problem with Apple's philosophy of simplicity is that it becomes a major limitation as time passes and the competition becomes stronger.
Releasing incrementally updated products and making refinements here and there is fine by me, but Apple really needs to address the iPhone's glaring feature omissions and failings. The iPhone remains one of the most fragile smartphones on the market, second only to the Nexus 4. If you drop it on the ground from almost any height, you can be almost guaranteed the glass on the display will be shattered or cracked in some way. Is this really acceptable anymore? Apple have focused for years on the build quality of their devices at the expense of build integrity. Their apparent ambivalence to the cries of their users only feeds the aftermarket case manufacturers and display repair companies.
Something tells me that this time, even the most ardent Apple fans will be hard pressed to think of a reason to upgrade from their existing iPhone 5.
That concludes my take on the iPhone 5s and iPhone 5c, I'm looking forward to hearing what you guys have to say in the comments below.