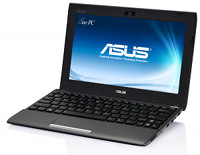 Netbooks are dead! Or at least it would seem they are about to be, according to Digitimes. In 2007 Asus shook the industry by introducing super cheap and extremely portable mini laptops called the Eee PCs. It wasn't too long before every manufacturer was churning out these low-cost and underpowered Windows computers and it seemed as if the market was stretched to breaking point with a fresh plethora of them cropping up almost every week. Fast-forward 5 years and Tablets and Ultrabooks (the premium version of a Netbook) have completely usurped them and established the post-PC era.
In 2011, Samsung, Dell and Toshiba all abandoned the Netbook product category and now the death knell for these intrepid little machines seems inevitable, with both Acer and Asus publicly announcing that they will no longer produce Netbooks in 2013. The Netbook has tanked largely because of a failure of manufacturers to extract sufficient revenue from their razor-thin profit margins. The devices were all about cost saving thanks to low-powered Intel Atom hardware and cheap build quality. When Apple's iPad was introduced in 2010, Steve Jobs put it best when he said that Netbooks didn't do any major computing task very well. He was referring to the Netbooks' poor quality web browsing, multimedia, gaming and productivity experience. By contrast, Tablets excel in all of these areas.
Although Chromebooks continue to sell reasonably well, the Netbook seems destined to be a retired form factor.