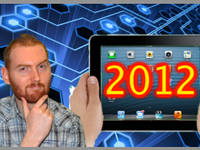 It's hard to believe that 2012 is coming to an end, for me personally it's felt like a long year and a big one in terms of Technology. Over the course of the last twelve months we've had some major developments like Facebook going public, the Apple Vs Samsung patent wars reached new levels of absurdity, the iPad 3 was launched and Nokia and Microsoft teamed up to produce some awesome Windows-powered smartphones like the Lumia 900 series.
My personal YouTube rants have included such topics as my hatred of 3D, the perils of Facebook and social media addiction and Google's controversial augmented reality headset known as Google Glass. Microsoft unveiled their new Surface RT and Pro Windows tablets and I bought an old iMac G4 for nostalgia purposes. I provided commentary and analysis on tons of consumer devices and computers and even had a skype interview with a gaming legend, Chris Jones, AKA Tex Murphy from Big Finish Games, as he discussed his plans for the next installment in the franchise.
The WWDC 2012 provided us with new a new look MacBook Pro with Retina display, which I was delighted to unbox and review, I also reviewed the Dell XPS 13 Ultrabook. This year also brought us the game changing Samsung Galaxy S III and Galaxy Note 2 smartphones along with the iPad 4, iPad Mini and the rather disappointing iPhone 5. At the same time, Apple made a costly Faux-paus when the launched their own proprietary maps application.
To watch my full Technology review video, click on the YouTube video box above. I'm very much looking forward to hearing what your technology highlights were for this year and I can't wait to get stuck into 2013 for more tech news, reviews and general ranting and raving that's become an important part of my channel.
Thanks again for all of your support and be sure to subscribe to Lack78 for more Tech videos. Happy New Year!