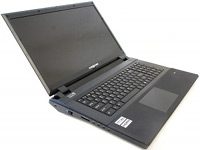 Eurocom has introduced a new powerful desktop-replacement workstation called Scorpius. This gargantuan laptop features a 17.3-inch display with a full 1920 x 1080P resolution. Weighing in at 7.72 pounds with a thickness that measures 1.92 inches, this thing is a behemoth. A machine such as this is not really designed for the average consumer, as it's simply not conveniently portability. The Scorpius is ideal for users who need a full featured desktop PC most of the time, with the added benefit of occasionally being able to take it on the road.
As you might imagine, the specs provide plenty of high-end customisation options with the latest Intel core series processors, up to 32GB of RAM and 8GB of dedicated video card memory thanks to two Nvidia Geforce GTX 680M graphics cards. Storage is provided through hybrid, SSD and regular hard drive options. In fact, there is a maximum config option for 1.8TB of solid state storage, as you would image this drives the price up considerably.
In terms of I/O connectivity, the Scorpius provides 4 USB 3.0 ports, eSATA support, Ethernet, DisplayPort, HDMI, Blu-ray / DVD drive, multiple memory card reader, and headphone and mic jacks. Eurocom's new Scorpius laptop is a beast and as a result it comes with a hefty starting price of $1,793 for the entry-level model.