5 Ways Microsoft's Surface Tablets Could Fail

Following Microsoft's introduction of their new Surface tablets for Windows RT and Windows 8, the tech industry has been abuzz with optimism that Redmond might finally deliver the dream slates that so many users have yearned for. Since the iPad launched in 2010, our expectations about what makes a tablet computer have changed. Mobile operating systems like iOS and Android rule the roost and a desktop OS like Windows seems clunky and cumbersome. However with the new Metro UI layer found in both new versions of Windows, users may soon be treated to the best of both worlds. The new Microsoft Surface for Windows 8 devices may finally provide an uncompromised desktop experience with support for all manner of peripherals and legacy software. But if these new slates are to compete against the iPad many questions must be addressed.
5. Battery Life: Given that the abbreviation RT stands for 'Runtime', we can deduce that the mobile version of Windows for tablets will offer a solid 10 hours of battery life on ARM-based hardware. However the Windows 8 Pro model may struggle to match its slimmer brother. The full x86 experience may come at a price. Anything less than 7 hours will be a tough sell.
4. Updates and notifications: Again the RT version will likely be free from such desktop limitations but Windows 8 Pro is ultimately just Windows 7 with a few new bells and buttons. User expectations on how tablets operate have changed dramatically since the iPad burst onto the scene two years ago. Unwanted intrusions from notifications and delayed shutdowns due to software updates would never be tolerated by iPad users. They surely have no place on tablets in general. Microsoft must address this area in order to be in with any chance of matching the seamless performance of the iPad.
3. Fragmentation: Historically a major bone of contention with Windows desktop operating systems has been the frustrating confusion caused by the sheer amount of different versions on offer. For Windows 8 for laptops and desktop PCs the confusion has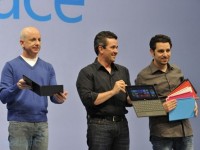 been reduced somewhat with just three versions. The issue here is the fact that Surface features both a mobile version in Windows RT and a fully fledged desktop version in Windows 8 Pro. The reason for this is hardware related with RT running only on the ARM processor architecture and Windows 8 Pro on the x86 Core i5 silicon. The latter allows users to run legacy Windows apps in a traditional Windows desktop environment along with the Metro UI, the former only runs Metro and has no support for legacy apps. Microsoft must adequately educate customers to understand the differences between the two. The problem is both devices look almost identical especially with their Metro UIs enabled. The average user may simply buy the wrong device for their needs.
2. Performance: This is always a relative area open to individual user opinion but given the technical issues that occurred during the keynote we have to consider this one carefully. The fact that the media were given little to no hands-on time with the Surface slates also sets off alarm bells for some. We have to wonder how well these things are running at the present time and how close Microsoft are to delivering a stable final product. Question marks remain over how fluidly the Metro UI really works, particularly for multitasking. Also the Surface for Windows 8 Pro will no doubt lack the always-on capability of running for 30 days on standby given its high-end desktop processor.
1. Price: The biggest stumbling block here that may scupper any chance of getting these devices into users hands is the price tag. If rumors are to be believed the Windows RT Surface device could start from $599, a full $100 more than the entry-level iPad. The Windows 8 Pro model could start anywhere from $899 to $999. The Microsoft Surface keynote event proved to the tech community that there is a sizable vocal minority who
are unsatisfied with Apple's consumerised interpretation of a Tablet device.  They have been craving Microsoft's no holds barred unified tablet /desktop experience with Surface. They are simply not interested in the content consumption-only iPad, they want the full professional productivity of a notebook PC with the simplicity of a tablet. Surface attempts to provide both in a meaningful way with Windows 8 Pro. However such a product will not come cheap unless Microsoft are willing to make a loss until costs can be reduced. Anything over $699 may struggle to gain traction in the market in the same way the original Windows XP tablets failed 6 years ago.