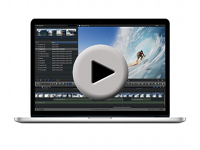 This week we got our hands on a brand new 2012 15-inch MacBook Pro with Retina display. Apple launched this new product category at this month's WWDC keynote event in San Francisco to much fanfare. This latest generation Mac notebook sees an evolutionary chassis redesign with a slimmer form factor and a major internals overhaul.
The machine does away with the DVD SuperDrive, battery life indicator, Ethernet and FireWire 800 ports and the ability to upgrade the RAM. Yes the memory had been soldered directly to the mainboard. From a profile view you can clearly see that the notebook is a good deal thinner than its predecessor. A full 0.6cm thinner to be exact at 1.8mm thick. As a result the weight of the laptop has been reduced to an even more portable 4.46 pounds.
This Retina display MacBook Pro is positioned as Apple's high-end portable laptop with the previous generation chassis designs available in 13-inch and 15-inch editions. Both of these models continue to offer the attributes and features that the retina model has jettisoned such as Ethernet, FireWire 800, upgradable RAM and a DVD SuperDrive. Naturally they are a little thicker and heavier but they won't leave such a big gaping hole in your wallet. Whats more they've been updated with the latest Ivy Bridge silicon and USB 3.0.
The primary selling point for this new MacBook Pro is obviously the retina display. With 220 pixels per inch and a resolution of 2880 x 1800 icons and text are sharply defined and breathtakingly vivid. This display has to be seen in real life to be believed. Performance was exceptional thanks to the latest generation Core i7 Ivy Bridge processor from Intel and the considerable 8GB of non-removable RAM. Two ThunderBolt high-speed I/O ports have been added to the mix along with a HDMI port and USB 3.0. Although the MacBook Pro with retina display may be a beautiful powerhouse notebook with a display of pure eye candy, it is simply not a practical option from a financial standpoint. At €2349 it's woefully overpriced considering the far more affordable traditional MacBook Pros still available from Apple. Click on the video boxes below to watch our fully in-depth unboxing and review of the MacBook Pro with Retina Display.