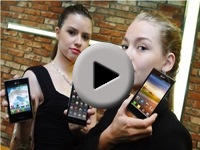 In today's YouTube technology video blog from Lack78 we discuss Apple's ongoing trademark lawsuit against Chinese tech company Proview. The Cupertino tech giant claims that Proview have damaged the iPad's brand name and defamed its reputation, while Proview claim that Apple have infringed their trademark ownership of the iPad. This is because Proview produced an all-in-one desktop computer in 1998 called the iPAD. The original iPAD abbreviation stood for Internet Personal Access Device.
Microsoft introduced us to their newly remained Windows 8 logo, which is an homage to the original Windows 1.0 logo of 1985 but with design influences from the metro UI found in Windows 8 and Windows Phone operating systems.
Apple have been forced to settle the iPhone 4 Antennagate lawsuit with users and pay them $15.
LG are due to launch three new L-series smartphone handsets next week at the MWC (Mobile World Congress) 2012 in Barcelona, Spain. The L3, L5 and L7 feature 3.2, 4 and 4.3-inch floating mass displays respectively and the two larger devices will run Android 4.0 Ice Cream Sandwich with the L3 running Android gingerbread.