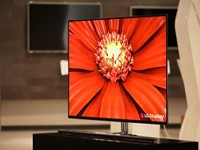 OLED displays have recently become very common in the consumer devices industry. Our smartphones and tablets now benefit from the higher resolutions, thinner and more energy efficient screens as a result of OLED technology. Television manufacturers have slowly begun to migrate towards OLED panels but consumer adoption has been slow due to the considerable expense still associated with this state of the art technology. However LG are about to demonstrate their new 55-inch panel at CES 2012, which they maintain will address many of the issues that have plagued the development of larger OLED displays aimed at the mass-consumer market.
LG CEO and Executive Vice President, Dr. Sang Beom Han said: "Although OLED technology is seen as the future of TV display, the technology has been limited to smaller display sizes and by high costs, until now. LG Display's 55-inch OLED TV panel has overcome these barriers." Han went on to say that this new 55-inch panel makes use of an Oxide TFT display technology instead of the Low Temperature Poly Silicon (LTPS) typically found in smaller OLED screens like those of smartphones and tablets. As a result of this implementation of Oxide TFT instead of Silicon the same high quality image can be achieved at a significantly lower manufacturing cost.
At present LG have not yet given any indication on what the price of such a display might be but we expect to find out more at CES in January.