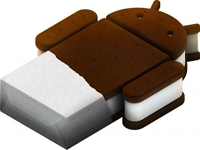 Yesterday Tuesday May 10th at the Google I/O 2011 event Google unveiled Version 3.1 of their latest mobile OS, which will retain the 'Honeycomb' codename. The company also offered us a sneak peak of their next OS called 4.0 'Ice Cream Sandwich', which is scheduled for release in the final quarter of this year. Version 3.1 Honeycomb brings Open Accessory API, which allows for interaction between accessories like musical instruments and science equipment with Apps. Next up is USB host API, which allows for management of connected USB devices. The addition of peripheral input devices for things like gamepads. A big update is the ability to resize home screen widgets, there will also be a media transfer protocol.
The most exciting announcement was their new future OS Ice Cream Sandwich, which looks set to end the fragmented Android ecosystem. The OS is designed to run across all compatible devices so thats Tablets and Smartphones. Effectively this is a merging of 2.3 Gingerbread and 3.1 Honeycomb into one OS. It is evident that Google wishes to create a unified platform across all hardware specs and form factors. As a result new APIs will be introduced to allow developers to scale applications from smartphone sizes up to Tablets of varying dimensions. Other notable features of ICS include new OpenGL-based facetracking. Google also introduced a major new breakthrough in home automation called Android @ Home, which allows for control of everyday household appliances. Android Apps will communicate directly to things like Lightbulbs, washing machines, dish washers and even your fridge. Turning them on or off and emailing you when various tasks are completed.
Finally as excited as I am about these new innovations, does anyone else think that the Android dessert naming scheme is becoming a little bit too flamboyant? I've never been a big fan of inanimate objects or artificial systems being named after real world things. I personally don't like the fact that OS X uses big cat codenames. As for Android, whats next? Version 5.0 Eton Mess?