The long awaited refresh of Apple's flagship all-in-one desktop line has finally happened today. In a silent update the 2011 lineup of the iMacs have been given ThunderBolt ports, the latest Sandy Bridge CPUs, HD FaceTime Cameras and 3 times faster graphics. The much needed processing shot in the arm sees CPU speeds increased by as much as 1.7 times over their 2010 predecessors. The 21.5 inch model continues to begin at the entry level price of $1,199 (€1149). Core i3 has been dropped in favor of a quad-core Core i5 at 2.5GHz. Display resolution maxes out at 1920 x 1080. RAM starts at 4GB scalable to 8GB. Hard Drive storage begins at 500GB and the GPU power comes courtesy of the AMD Radeon HD 6750M with 512MB of on board video memory. The next 21.5-inch iMac begins at $1499 (€1449) with a 2.7GHz Quad-core Core i5 CPU and for an extra $200 you can make that a 2.8GHz Core i7. Hard drive storage options are extensive with Serial ATA 1TB and 2TB drives available along with dual configs including solid state system drives up to 256GB in tandem with the traditional mechanical drives. There is one ThunderBolt hight speed I/O port on the 21.5-inch iMacs and two on the 27-inch models.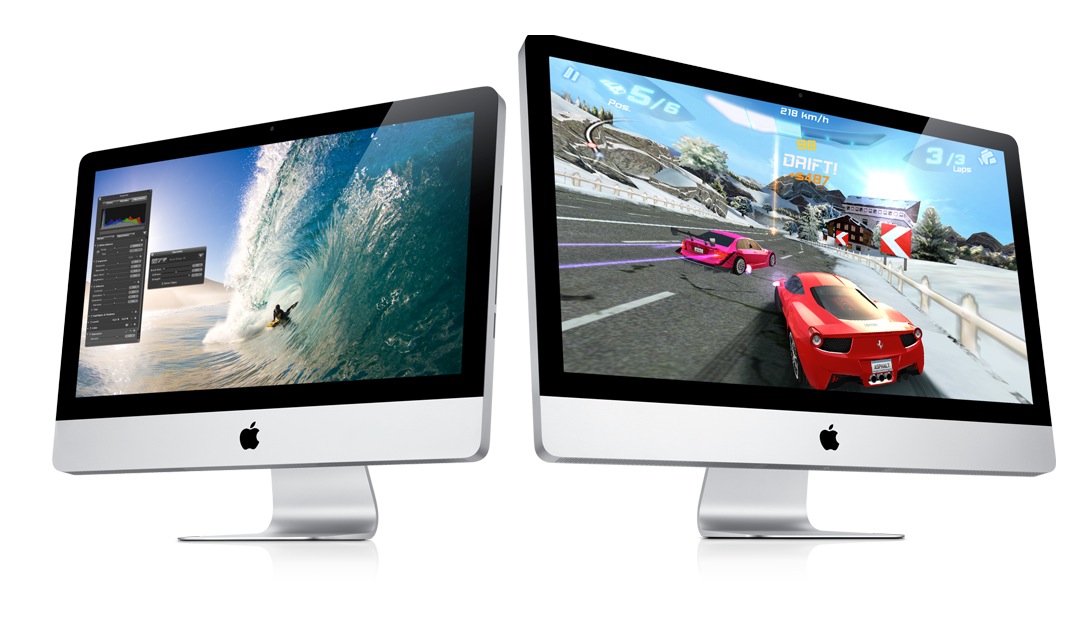 Moving on to the bigger 27-inch brother for $1699 (€1649) the base model features a Core i5 2.7GHz Quad-Core CPU with RAM upgrades to 8 and 16GB available. The display resolution maxes out at a staggering 2560 x 1440. But the Mac daddy is the fourth and final model starting from $1,999 (€1899) with a Core i5 3.1GHz Quad-core CPU but a blistering 3.4GHZ Core i7 is also an option for an additional €200. The GPU is supplied by the substantially powerful AMD Radeon HD 6970M with 1GB of GDDR 5 video memory although a 2GB version is also available for an extra $100. Once again Apple have produced a powerful alternative workstation in the their 27-inch edition that will have many power hungry video editors and graphics professionals struggling to decide between the giant sized Mac Pro workstation and the space saving connivence of these competitively priced 2011 iMacs.
Click on the video below for a full breakdown of this new iMac refresh.