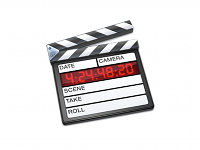 At the Final Cut Pro User Group Supermeet yesterday Tuesday April 12th, Apple took to the stage and gave us a quick look at Final Cut Pro X the latest release of their flagship professional video editing application. Interestingly enough it appears that Final Cut Pro has now been set free from the Final Cut Studio application suite and will set you back just $299. Version X is a revolutionary overhaul of the entire front and back end of the application, which has been rewritten in 64-bit Cocoa. Its barely recognizable as Final Cut, in fact it looks like its been fused into iMovie.
It features support for all processor cores by taking advantage of existing Snow Leopard technologies like Grand Central dispatch. It also boasts support for HD 4K resolution, you can now edit footage while its being imported, background rendering is built in so video filters and effects are practically instantaneous. Content auto analysis allows for automatic detection of media along with auto image stabilization, people detection, auto color balance, audio cleanup and shot detection. Media is also conveniently managed and categorized automatically into appropriate bins. Another great addition, which will save me so much heart ache personally is the new Clip Connections feature. This does away with the old V1 A2 video and audio track system and instead allows you to move and lock video and audio together but keep them in sync wherever they are moved to on the timeline. Indeed the timeline has probably received the biggest overhaul its a lot cleaner with a new Compound Clips view, which allows you to collapse large portions of video, audio, stills etc on the timeline and keep them organized in a more simplified fashion. I would imagine this will cut down on the overall size of the work area on your project's timeline and reduce scrolling from the left to right.
The new Magnetic timeline means that "If you slide a clip down the timeline, long clips (i.e., secondary audio) won't collide with other clips. The other clips will drop down to a new drag and nothing is pushed out of sync." Similarly to iMovie theres a new precision editor, Auto video analyses, Clip Tagging, built in auto color matching so two different video sources can have their colors matched quickly. Color correction is implemented automatically when the video is being imported. Whats more you can mix and match footage and there will be no more transcoding to worry about. Some of these changes need to be seen to be believed. Indeed Apple weren't kidding when they said the next gen Final Cut Pro would be a jaw dropper. Although I'm not a fan of the UI enhancements and I'm already too familiar with the current design and layout to want to change how I edit video after all these years I still think these are welcome additions and much needed. Final Cut Pro X is due to launch in June, there was no word on Final Cut Express and I think theres a good reason. Its my view that between the entry-level consumer based iMovie and this new simplified standalone and more affordable Final Cut Pro there is no room or reason for it to exist anymore.
Check out our comprehensive analyses video on Final Cut Pro X