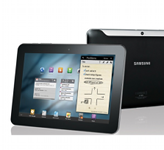 Following on from our story yesterday of RIM's launch of the Blackberry PlayBook, Samsung have duly introduced their own 2011 tablet's coming this June. The Galaxy Tab has been updated to include 8.9 inch and 10.1 inch editions featuring resolutions of 1280 x 800, 1GHz dual core CPUs and running Android Honeycomb. The devices are advertised as being the thinnest on the market at 0.2 mm thinner than the iPad 2. They will both support HSPA+ along with Bluetooth. As part of the slim down process, Samsung have had to reduce the megapixel of the rear camera from 8MP to 3MP with the front camera remaining at 2MP. Both editions offer support for Adobe Flash.
It seems that the iPad 2 can no longer use it's aggressive pricing strategy as one of its main selling points. Similarly to RIM's PlayBook, Samsung's Galaxy Tabs have an identical price point to the iPad 2 with the 10.1 inch 16GB version starting at $499 for Wi-Fi only. The 32GB version starts at $599. The entry level 8.9 edition starts at $469. It is the opinion of many analysts that Samsung Galaxy Tab series now represent the greatest threat to the iPad 2 dominance in the Tablet market. Whats more it will be interesting to see if its possible for the 8.9 inch Tab to succeed where it's 7 inch older sibling failed. It is not known yet if Samsung will discontinue the 7 inch version but I'm personally excited to see if anything other than a 10 inch tablet can be successful.
Expect to see the new Galaxy Tabs hit stores on June 8th.
Watch the video here: