If theres one Apple device that I get asked about all the time its the MacBook Pro. I'm frequently inundated with questions of when we might expect a possible refresh of Apple's flagship prosumer notebook lineup. Usually I'll go by the last concrete tidbit of speculation to to roll off the rumor mill, if not then I'll probably shrug my shoulders and guesstimate with 'very soon' as my trademark response. All things considered refreshes of Apple's products take place once every 8 months or so, with the latest 2011 editions, they certainly left us waiting. For the purposes of this review, I was provided with the entry level edition of the 15 inch MacBook Pro, a welcome change from the 13.3 inch version I reviewed some years back. The machine can be configured to offer additional hardware options like a larger hard drive, including solid state storage, more ram up to 8GB, the Radeon HD 6750M GPU from AMD, an Anti-Glare display and a 2.2 GHz Core i7 CPU. However this base model edition offers decent value for money, albeit at a wallet busting price tag of €1799. Everything is relative I suppose. Specs are listed below.
Specs:
2.0 GHz Sandy Bridge Core i7 CPU
4GB of DDR 3 Memory
500GB Hard Drive
15 inch glossy backlit display 1440 x 900 resolution
Intel hd graphics & and radeon 6490m with 256mb of gddr5 with graphics switching between the two.
Facetime HD camera ThunderBolt port,
SDXC card slot, Firewire 800 port, 2 USB ports
Wi-Fi 802.11n, Bluetooth, backlit keyboard and ambient light sensor
Slot loading DVD Drive
Upon opening the box you'll be met by the usual minimalist but stylish Apple packaging. The MacBook is carefully removed from it's transparent plastic and the aluminum unibody chassis feels cold to touch with a brush metallic feel and a distinct 'new' smell about it. Apple have once again retained the preexisting design first introduced in 2008 with the then 13 inch 'MacBook' replacement. The machine is thin and light enough to be portable but won't challenge the MacBook Air in the portability stakes. I suspect the next refresh will be a complete redesign. Nevertheless its nice to use a 15 inch notebook that doesn't break the back due to its size. I've often handed people my 13.3 inch MacBook Pro only for them to be surprised that its heavier than they expected it to be. The opposite is true for this 15 inch MacBook Pro. When you hold it, you expect it to be heavier than it looks. This is clearly a testament to Apple's ability to cram so much into this tightly integrated chassis. As expected with all Mac computers, setup is quick and simple, and unless you opt to transfer files via Mac Migration Assistant from another computer, you'll be on your desktop in no time.
The display is beautiful and sports some rich color and a very high viewing angle area. Looking at the display from any direction and theres no image fade or color degradation. Its perfect from edge to edge. The backlit keyboard is a joy to type on, its chick-let style is now standard across all Mac notebooks and lights up conveniently thanks to the ambient light sensor. The multi touch glass trackpad remains a joy to tap, scroll, swipe, pinch and zoom with. Allowing for easy access to open applications via expose with a single 4 finger swipe down. Of course Apps like iPhoto come alive in a whole new way when using Apple's trackpad with any MacBook. OS X runs silky smooth with no lag, quick boot up times, speedy app switching and robust reliability.
The Core i7 Sandy Bridge CPU is a quad core processor offering bags full of power and in conjunction with it's capable integrated Intel HD 3000 GPU and the AMD Radeon HD 6490M, the machine provides ample horsepower for gaming and high end graphical work. The first noticeable new feature is the addition of a HD Facetime camera. Offering full 1080P video capture. The image quality is certainly improved but I've seen better lighting from other webcams. It's good but I've often found scaling up 1024 X 576 not all that far off proper HD for these cameras.
The MacBook Pro may have a minimalist design as in keeping with everything Apple, but it does offer plenty of I/O. 2 USB ports and FireWire 800 with a MicroSD slot and audio in and out jacks and now for the first time a ThunderBolt Port. ThunderBolt is Intel's new LightPeak high speed I/O port, which aims to one day replace all other forms of I/O and homogenize USB, FireWire and mini display ports into one standard port. So rather than having multiple different types of ports, we'll just have one type repeated several times over. Whats more its much faster than USB and is incorporated directly into the mini display port itself. In theory its wonderful, in actuality there are simply no ThunderBolt devices on the market at present for us to demonstrate its speed. So for the time being we'll take their word for it.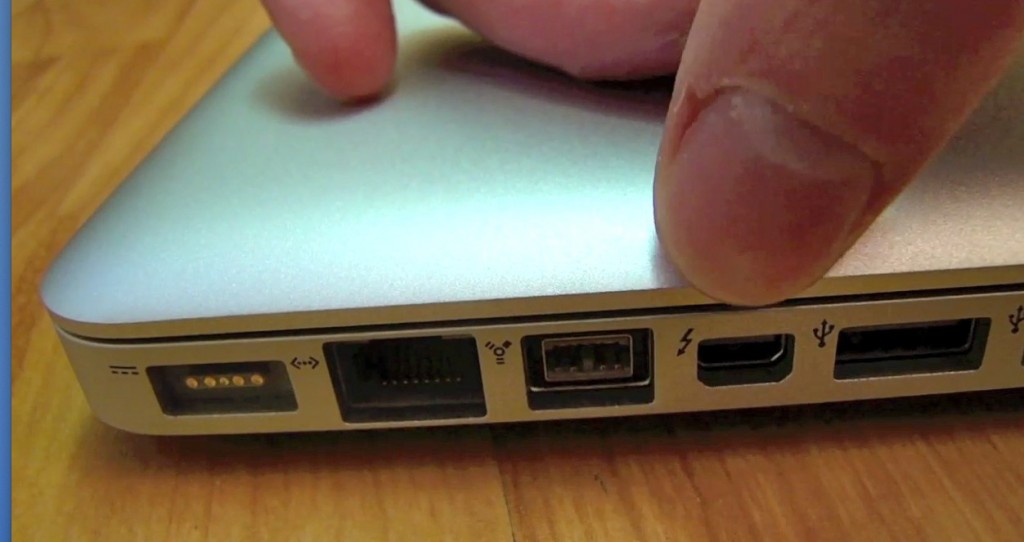 Battery life is solid at 7 hours, which given our testing we can confirm as more or less accurate when doing light web browsing and text editing. Even throwing in some iPhoto work and you won't come up too short.
The entry level 15 inch MacBook Pro offers a substantial workstation computer for a just about justifiable price. Its expensive, theres no getting around it. But for that you get a high end performer with a exceptional build quality, rock solid operating system and a next generation technology that will help to 'future proof' the notebook for some time to come.
Click on the videos below to watch our unboxing and review.