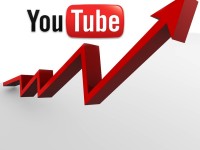 With Google's ongoing Hummingbird search algorithm changes and controversially redesigned subscription feed, getting views on your videos is tough nowadays. Getting a lot of views is harder still. One of the best ways of ensuring solid views on your videos is to make your YouTube channel as subscribable as possible.
Many people ask me, "Dave, how do I get more subscribers?" It's a catch 22, in order to get more views, you must first increase your subscribers, but before you can get more people to subscribe to your channel you must first produce videos with sufficient view counts that reach enough people. Thankfully, there are many ways of achieving this. Before I give you my top 10 list of ways to increase your views on YouTube, I'm first going to give you a disclaimer.
NEVER EVER BUY VIEWS! Avoid services that offer you the opportunity to gain views by spending money. Such companies take your money and use bots to watch your videos and increase your view count fraudulently. You'll get no additional comments or likes from them, no new subscribers and the views you do get will come at a great cost – Your Channel. Google are clamping down hard on users who violate their terms of service in this way. So never use bots or any companies offering views for cash.
If you want to spend money to gain views through advertising, either use Facebook promoted posts or Google Adwords for video. More on those two later.
Now on to the list of 10 ways to increase your YouTube views and gain more subscribers:
1. SEO Your Video: Ensure your Video Titles, description and Keywords Tags are Search Engine Optimised. This is crucial, If you're making a video about how to perform a full service on your car for example, ensure that your title contains keywords that people would use to find such a video. Make your description detailed and include links within it to your social media channels.
2. A Suitable Thumbnail: Although sensationalised and misleading thumbnails are totally against YouTube's terms of service, having an appropriate video thumbnail that effectively showcases what your video is all about is the best way of encouraging people to click on it. By default, YouTube will randomly choose 3 images to use as your default thumbnail image for the video, but you can create and upload your own. Again, let's use the example of the car service video, consider taking a photograph of yourself standing next to the car, perhaps include some text inside the thumbnail that can provide more information beyond the basic title.
3. Use Facebook: Love it or hate it, Facebook is the world's largest social media network and therefore the most influential. Your YouTube channel should have a string of spin-off social media sites connected to it to encourage further discussion on your videos and engage with your audience. However the use of Facebook is also about reaching your subscribers when they're not on YouTube and posting your videos there as embedded posts to generate more views.
You can also promote your posts if your page has more than 100 likes, be warned though, unless your video is a very hot topic, Facebook promoted posts usually only deliver 1 view per 1 € or $ more or less, which isn't brilliant. Your goal should also be to use Facebook page ads to reach more people and receive more page likes, therefore driving more traffic to your channel. My Computing Forever Facebook Page has grown from 750 likes to over 4000 likes from Facebook ads, and many of these people are now new subscribers to my channel. I recommend installing the YouTube Tab app into your Facebook page also so people can see your whole channel from there.
4. Don't Forget Twitter: It's still the best way of keeping up with all of the conversations related to your channel's area of concern. Conduct some Hashtag research and find out what people are talking about that you can use as ideas for your videos. Ensure that the Tweets you use to publicise your videos contain relevant hashtags also.
5. Include a Call to Action in Your Videos: It might surprise you to know that one way of gaining more subscribers is to simply ask people to subscribe. At the end of your video consider placing a call to action in which you ask them to subscribe but be careful not to come across as if you're begging or nagging them to do so. That will almost certainly turn many people off. Explain to them how your channel can be of benefit to them.
Maybe you make videos explaining how to restore or maintain old cars, offer people the opportunity to subscribe by saying something like: "If you'd like more tips on taking care of your car, please subscribe to my channel to check out my upcoming videos". Additionally, let's say you make product review videos for example, why not give people a reason to subscribe by telling them in your next video: "I'm going to be reviewing the LG G Pad 8.3 Tablet". It's the kind of "stay-tuned-for-more" approach that often works best.
6. Be Consistent: YouTube subscribers want continuity and regularity with their watching habits. Ensure that you make a video schedule you can stick to. It's important that you make your subscribers aware that you will make regular videos each week and tell them when they can expect the next one. If you tell them that you make videos on Mondays, Wednesdays and Fridays then it's vital that you stick to this schedule with little to no deviation.
7. Create a Supporting Blog for Your Channel: There are a number of reasons a blog is important for your YouTube channel. Firstly, having your own website allows you to produce content that will help to encourage people to visit your channel. Writing articles with embedded videos can be a great way for people to discover your YouTube videos. Secondly, because of the precarious nature of YouTube in which arbitrary changes to the site by Google can result in a sudden drop in views, it's important to have your own place that you are in full control of. That leads me to the next point.
8. Create an Email Newsletter: Use your website as a means of developing a new audience and communicating directly with your existing subscribers. You can create a newsletter function on your blog to provide new content and advertise your latest YouTube videos. When a viewer signs up to your newsletter they will submit their email address, which will allow you to message them directly and therefore bypass YouTube's awful and inconsistent subscription email service. However it's important to remember that nobody likes spam. People should sign up to them for the unique and original content they will provide. Explain to your subscribers the benefits and value these newsletters will offer them. Perhaps you can include exclusive video content only available to those you sign up.
9. Google Adwords for Video: Easily the best way of gaining views on your videos, Google Adwords video campaigns really do work. For as little as €7 you can gain 750 views per day. Obviously the greater the budget the greater the views, your videos show up as TrueView In-Stream, In-Display, Partner adsense and In-Search ads. Although you will almost certainly see an increase in views, remember that you may no see a dramatic increase in comment and like engagement unless you give people a reason to want to click on your video. This is where a call to action is required in your video to encourage people to visit your channel and subscribe to you.
10. Make a Channel Trailer: Channel trailers are a relatively new function on YouTube. They are designed to showcase your channel, so carefully take the time to plan your message and keep the video short. No more than 60 seconds. These are ideal videos to use as promoted Google Adwords video ads.
Finally, I wish you the very best of luck with your channel and hope that this article has helped you in some small way to gain more subscribers and increase your video views on YouTube. You can check out my own YouTube channel by clicking here.